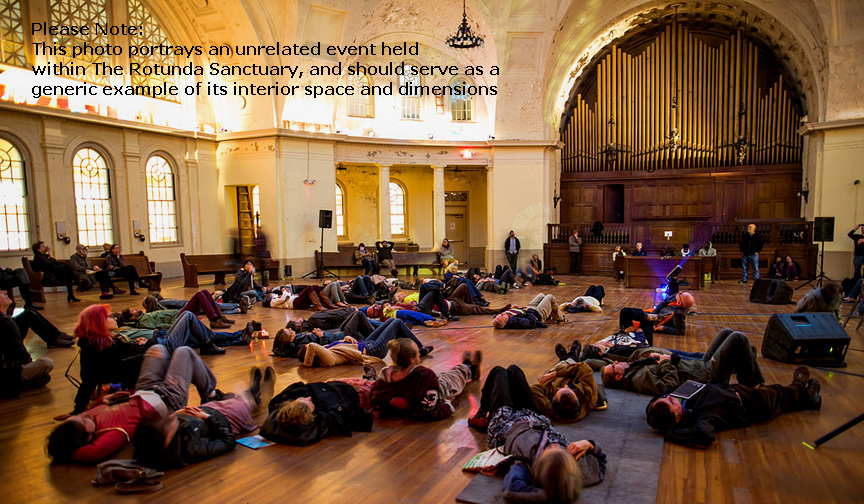 Special notes on the Robert Rich Sleep Concert of 4 June 2017...
Please be advised that the Robert Rich Sleep Concert of Sunday 4 June 2017 is not a typical installment of The Gatherings Concert Series. The remarkable location of this one time special event is The Rotunda Sanctuary, the front entrance of which is at 4014 Walnut Street in Philadelphia, PA. This space does not offer any conventional seating whatsoever.
The Robert Rich Sleep Concert of Sunday 4 June 2017 is only open to 100 attendees. A limited number of admissions will be available at the door. Each attendee must arrive to The Rotunda Sanctuary between 10:30PM-11:30PM on Saturday 3 June 2017, and so will enter and become settled well in advance of the performance, which will begin promptly at midnight.
Admission after midnight will be at the discretion of the management.
Each attendee must provide their own sleeping bag, pad, blanket, pillow, or other reasonable and sensible sleeping apparatus, which will be used to recline or sleep upon. A floor area of approximately 6 feet x 8 feet will be allocated to each attendee, 100 of which will be arranged in a logical order of rows and aisles, allowing for ease of movement throughout the sanctuary space.
The quiet and fragile nature of this concert will not allow for socializing, the use of personal electronic devices, or late arrival. Please attend this event with the expectation of silent listening/resting and minimal disturbances.
Attendees may leave the sanctuary space at any time for the bathrooms located within The Rotunda. Once an attendee exits the building for the outside, they cannot be re-admitted.
The expectations and requirements of the Robert Rich Sleep Concert of Sunday 4 June 2017 are rather different from those of a conventional musical concert. Sound levels will be very low, distributed evenly throughout the space through an array of speakers. The duration of the Sleep Concert will be approximately eight hours. By complying with the criteria outlined above, we will respectfully encounter the artistry and musicianship of Robert Rich, commemorate the 40th anniversary of STAR'S END, and the 25th anniversary of The Gatherings Concert Series, as well as take part in a singular and unique communal experience.
Sincere Thanks for your attention to these details and for your enduring support!