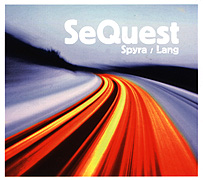 Review: SeQuest by Spyra/Lang

Every composer writes in the influences they grew up with. Throughout his interesting career the celebrated German synthesist Spyra has built upon a foundation of classic 1970s era Klaus Schulze as a basic inspiration, as well as 80s Prog-Rock and 90s IDM, to create a fascinating range of original Electronic Music - which takes the listener well beyond what his predecessors and contemporaries ever imagined. With each new Spyra CD we experience a new cycle of intimacy. On SeQuest (66'09") Spyra, with Chris Lang, creates an irresistibly likable Spacemusic. With its traditional virtues of melody and harmony the resplendent tone poetry may at times be airy, but never air-headed. Even spaced rhythms pulse and echo in intriguing patterns as lead lines, bold and expressive, seem to speak directly to the listener. Unafraid to be slow and sultry, on SeQuest Spyra and Lang also realize music meant to touch the heart once it has massaged the mind. Critics often miss the complexities of this music. Spyra is among the most expressive musicians working in the EM genre. The manner in which he moves through significant moods, textures and energy levels enlivens his pieces with a mysterious emotional atmosphere - within which we as listeners are grateful to be in contact.

- Chuck van Zyl/STAR'S END Ambient Radio 14 May 2010
---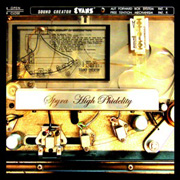 Review: High Phidelity by Spyra
Listening to High Phidelity it is easy to hear Spyra drawing upon techno influences as much as the mysterious moods of the spacemusic realm. He views the body and mind as parts of the same organism, and the medium of electronica as a path between many stylistic directions. On this double live CD, Spyra explores the boundaries between opposites, and manages to realize music that is always inviting and consistently engaging. Made up of concert excerpts drawn from 2007 activity, High Phidelity finds Spyra playing with space on STAR'S END, bursting with color and inflection at E-Day, soaring along melodic lines and dancing shapes at Hampshire Jam and weaving beautiful leads amidst complex interlocking patterns and repetitive motifs at The Gatherings Concert Series. The sound is vibrant, simultaneously loose and ordered, and with a tight grip on the groove. Spyra gives us the spacey and the dancey, but never the same way twice.
- Chuck van Zyl/STAR'S END Ambient Radio 6 March 2008
---
The Gatherings Concert Series presents Spyra live in concert on Saturday 15 May 2010 at 8:00pm (doors open at 7:30pm) in the church sanctuary of St. Mary's Hamilton Village 3916 Locust Walk (just east of 40th & Locust) on the Penn campus in West Philadelphia. Admission: $20 available at the door, night of show; $10 for full-time students with proper ID (available at the door).
---
Additional Material:
---

Ricochet Dream - Electronic Music and Beyond
The 2010 Season at The Gatherings Concert Series is supported in part by Ricochet Dream. An independent record label and listener association located in Red Bank, NJ, Ricochet Dream is dedicated to music releases relating to its TD themed Ricochet Gathering events and other noted artists.
For more about Ricochet Dream, please access: www.ricochetdream.com

---