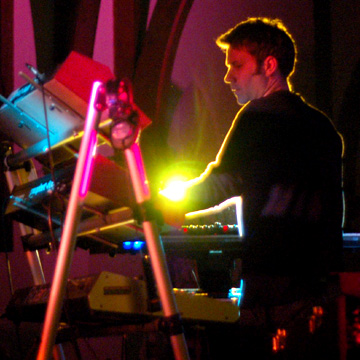 Jeffrey Koepper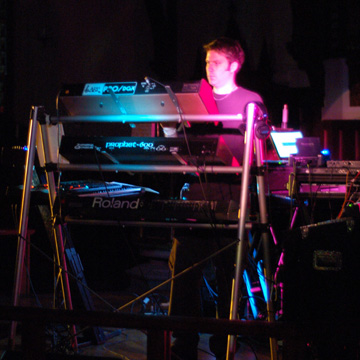 Jeffrey Koepper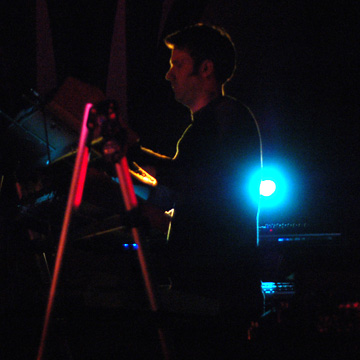 Jeffrey Koepper
.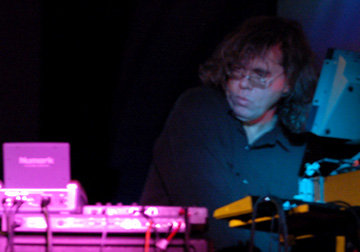 Steve Roach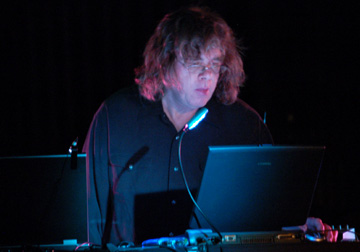 Steve Roach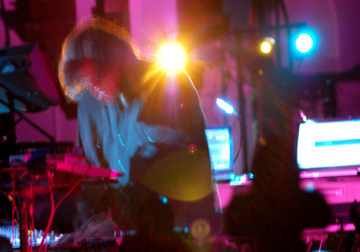 Steve Roach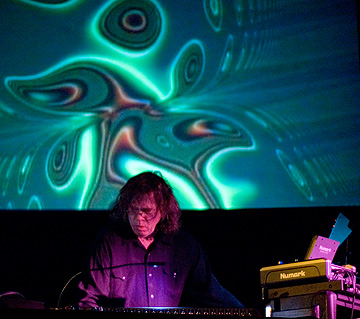 Steve Roach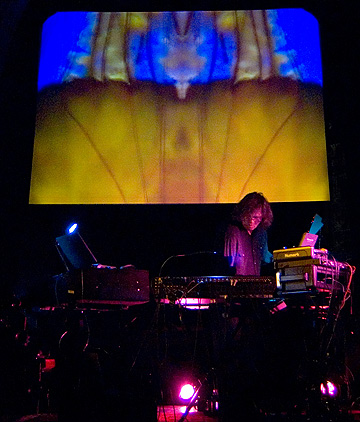 Steve Roach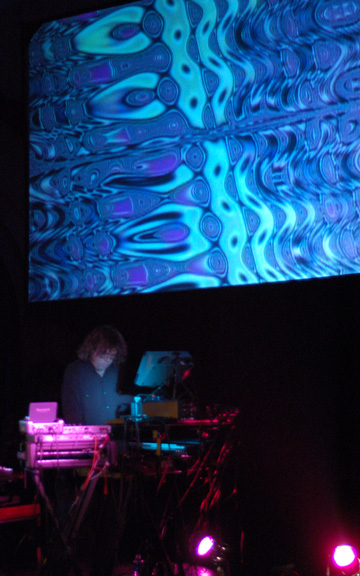 Steve Roach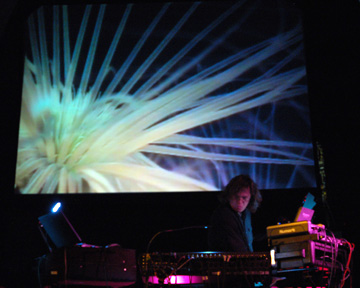 Steve Roach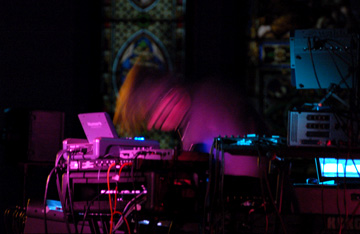 Steve Roach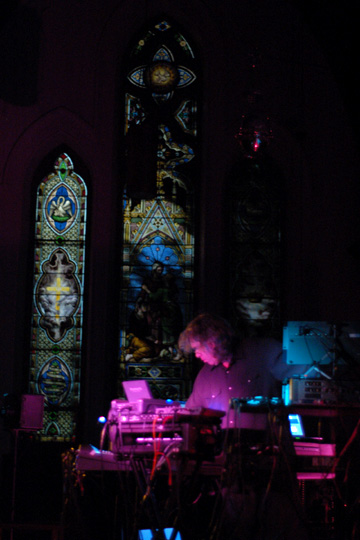 Steve Roach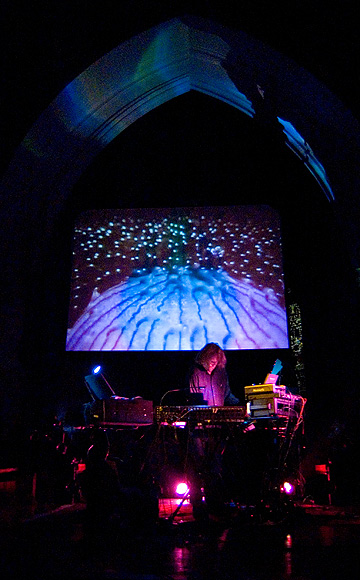 Steve Roach
Review: Steve Roach/Jeffrey Koepper

I had driven six hours, enduring rain and the damnable hell-on-earth that is the New Jersey Turnpike, to get to Philadelphia. And as I stood (at last!) outside of St. Mary's, I already knew that I was in for something special and very much worth the drive. The place itself exuded calm - this lovely little sanctuary in the middle of the city. I had made it at last, having promised myself countless times to do so, to The Gatherings. More to the point, I had made the pilgrimage to see Steve Roach, with Jeffrey Koepper opening. Given my journey I expected a lot from the evening's entertainment. I had no reason to worry.

Jeffrey Koepper had performed at The Gatherings in the past as part of Pure Gamma, but this outing marked his first live solo set. Tucked away behind racks of his beloved analogue keys, Koepper dropped into "Between Dreams" from the album "Etherea" to start the night off with a bit of beat-driven ease loaded with rich, warm layers. Transitioning through a sweeping gust of stellar wind, he laced a bit lush spacemusic with a sudden, strong beat and a twangy bass line to create a groove that smacked of perfectly crashing a truckload of Tangerine Dream into a train carrying Art of Noise. This wound its way into broad, dark spacemusic tropes of a certain lovely strangeness. Soon enough the sequencer kicked in, ushering in a Middle Eastern-tinged melody. (Upon further reflection, I'm thinking this was "Byzantine Machine," the lead track from Koepper's second CD, "Momentium.") For his final offering, Koepper let a drone mutate into its own beat, which regenerated, multiplied, and grew, seemingly exponentially and almost endlessly, spawning a body-swaying, hypnotically soul-freeing beat that made it nearly impossible to not jump up and dance. Fortunately - or unfortunately, depending on your outlook - decorum prevented such an outburst from the assembly. (I learned later that this last number will appear on an upcoming Koepper release.)

A brief break, and then the sweet bite of incense filled the air in St. Mary's, heightening the already sacrosanct feel. Under quiet atmospheres and to a resounding round of applause - including a cry of "Welcome back!" - Steve Roach took the stage. He opened his 90-minute set with long, full synth pads that grew in intensity, intermingled with hints of choral voices. On the big screen behind him were images from the "Kairos" DVD - slow pans across beautiful, arid and sculptural desert spaces that gave way to flowing, psychedelic imagery. Music and visuals blended perfectly. Time-lapse lightning flashed across gray banks of cloud, thunder shook the church, and a vivid red sun rose to a swell of Roachian beauty. As the visuals changed, the music went with it, turning darker and more ominous. Sequenced beats rose, quickly picking up pace and taking on a tribal feel. A deep, resounding pulse eased in and rushes of electronic wind rolled through the space. The beat became aggressively loud, charging and animalistic and then burst - falling into a quiet, aquatic drift. Across time the feel turned more toward the thick, gothic chords of "The Magnificent Void" as the visuals moved to space. Out of nowhere, a star went nova, helped along by a superbly orchestrated lighting shift (call it a burst) by Gatherings light man Jeff Towne, and the music spiraled down into what sounded like a riff from "Possible Planet" - very organic, insectile. Here again the sequencers began to up the beat and behind his gear Roach was grooving to the rhythm he was evolving, head bobbing to the pulse, building it, deeply feeling it, riding the wave he'd created, and suddenly the room was launched into a full-blown, full-volume star-ride at maximum volume, the sound so dense as to be tactile. Slowly it pared itself back, layers dropping away to sequencer runs and the hush of wind. The visuals gradually grabbed hold of solidity again, the abstracts morphing back to those wide western spaces as the music picked up traces of its own origin, reminders of where the voyage had begun. And still the music eased itself back toward simplicity, the volume gracefully receding to a single sustained, fading chord - and then, at the moment you felt it was over there was one more breath, one more quiet chord, rising then fading toward silence - and again, at that surely final moment it birthed one more, quieter still, the volume always fading until at last, the lingering moments of journey's end completed, it was subtly, quietly and perfectly finished.

An astonishing evening of spacemusic, and for me a superb introduction to the music that I love played live.

by John Shanahan of Hypnogogue as posted to the Spacemusic List (#11599) 28 May 2007
---
Review: Steve Roach + Jeffrey Koepper at The Gatherings
WHERE IS EVERYBODY?
My battles to arrive early are well-chronicled in the reviews I put together for The Gatherings website. But for the Steve Roach/Jeffrey Koepper show, I accepted that there was going to be a wait even if I did leave plenty early. So imagine my surprise when I get to the venue and there is no line. Did I miss an announcement? Write-down the wrong date? Luckily for me, CIMA was early as well. Now to find a seat somewhere......
ANALOG HEAVEN
Jeffrey Koepper led off the evening. Well-known both for his collection of vintage analog synths as well as an almost Montgomery Scott-like ability to repair the same, Koepper shared some of his arsenal with us for the show. I had the pleasure of catching Koepper back in the mid-'90s when he was performing as part of the duo Pure Gamma. The night's show would throw the difference between Koepper's work then and now into interesting relief. Where Pure Gamma's output was very organic and focused, Koepper's solo work, particularly on "Etherea", is more floating and expansive. Interesting that the same instruments were used during both time periods. Having Steve Roach produce doesn't hurt either ;) That's not to say hard-edge sequences and saw-tooth sounds didn't get any love this evening. While Koepper would open with "Between Dreams" off of "Etherea", later songs would bring the pace up and no doubt the sequencer fans got theirs. Where most contemporaries have given in and gone computer-based to varying degrees, Koepper is a bit of a happy anachronism. No PC to be found here. Nothing but good old-fashioned knob-twidlling and synth programming. After about forty-minutes of solid material the set wound to a close. If this show was your first exposure to Jeffery Koepper's music, do yourself a favor and pick up one (heck both) of his solo releases. You won't be disappointed.
THE LIGHTS FANTASTIC
Steve Roach. The man can draw an audience. Genre glitterati making it out to the show were Jim Cole of Spectral Voices, Christopher Cameron of Thought Guild, Sam Rosenthal of Project Records, Ben Cox from Lotuspike, Echo's John Diliberto, and Star's End alum Gino Wong to name a few. Incense burned upstage as Roach made his entrance. To be honest, I can't memorize tracks off of albums like I used to and I tend to just enjoy a concert as it comes at me. No setlist is forthcoming from this listener. The beginning of the set was reminiscent of one of his Timeroom series releases like "Slow Heat", slowly revealing itself and building in intensity. Moving in time with the video projection, the set built to a mighty crescendo. Fun to watch Steve Roach groove to his music. A four-speaker sound-system was employed for the show. With it Roach sent various sounds and signals to the rear speakers, creating depth in the listening space. Round-about the half-way mark Roach segued into an interpretation of his 1999 release "The Light Fantastic". This segment was accompanied by a lighting tweak that came together serendipitously during pre-show. Jeff Towne was running the lighting through it's paces as Steve Roach was doing a sound-check. One of the water effect lights was accidentally pointed towards the side of the sanctuary in the audience. Towne was headed over to re-position the light when Roach noticed the effect of the light on the space and stopped Towne, saying that he could work it into the show. The end result was a gorgeous marriage of light and sound which had the audience gazing around in wonder. Fantastic indeed. Roach lowered the intensity in the final minutes of the set, with the affair vanishing into the silence from which it began. For a moment a hushed crowd hesitated hoping Roach would begin anew, alas it was the end of the show. Much applause and ovation ensued to bring the first-half of The Gatherings 2007 year to a close.
by Chuck Nixon - 28 May 2007
---
Review: Steve Roach + Jeffrey Koepper at The Gatherings
Reflecting on the most recent Gatherings concert, my mind wanders back to... well, to a meal I once had, a semi-secret type of thing in a West Philadelphia apartment. That night, the chef who had let us in prepared a menu for ten conceived just a couple days prior, serving us humbly while we accepted his unique dishes unquestioningly. It was the reputation of the chef that made the night what it was, bolstered by our trust in his skills. Not long after that, I found out that these blind tastings have a name - *omakase* - a Japanese word meaning "put your trust in me". I thought back to that meal because I now know that a night with Steve Roach is heavy with the same vibe - his audience placing trust in him without hesitation, so that performer and audience can converge and everyone can walk away a little more rich with wisdom.
The church sexton let us in extra-early on this slightly overcast day in May. A few spits of rain dotted the sidewalk outside the church while Steve Roach and Jeffrey Koepper set up their gear slowly and deliberately. For this show, the cast of characters was large - fellow Baltimoreans Mike and Kathy Jeffries helped with set-up, Terry Furber showed up again with his massive projection screen, John Shanahan of Hypnaogue e-zine walked into the church having just driven in from New England, and Sam Rosenthal of Black Tape For A Blue Girl/Projekt laid sheets and CD's out on the merch table, having just stepped off the train from Brooklyn. In the back of the church, an extra pair of speakers was set up, and after Steve's thunderous sound-check, I was assured they wouldn't be going to waste back there. Jeff Towne was in charge of the lights, and I was to find out later why it looked like a couple of those lights were pointing in the wrong direction.
At 7:30, Towne opened the church door and yelled at the crowd, "We're gonna take the ticket holders first!" And it was a valid request - tonight the church would be full to the brim. Hopping back and forth across the vestibule, Gatherings veteran Ben and I handled a steady trickle of people clear up through till the end of Jeffrey Koepper's set. The Baltimore native played a 40-minute set that blended together bouncier pieces with sweetly melodic interludes, along with a few touches of Berlin school sequences. Unfortunately, with my attention divided between the show and the ushering of people in the back door, I couldn't give the music my full attention. Before I knew what was happening, it was intermission time, and the lights came up on a full room.
As intermission ended, Sam waved the last few stragglers away from the CD table, and the lights flicked off. I seemed to hear the breath in the room quickening with excitement as Chuck appeared at the altar, ever so dimly lit, and encouraged everyone to be silent. "Steve will be out in just a few moments," he said, before walking up the aisle. Click, click, went the light switches, and the darkness got a little bit deeper. A minute of nothing. Then, from behind Steve's keyboard rack, a head of hair appeared, and then a curl of incense smoke. Mr. Roach stood up and ran his hands along all of his gear before raising his head and receiving a round of applause. "Welcome back!!" someone off to the side screamed congenially. The music began with quiet threads of melody, gaining in volume ever so slightly while organic textures seemed to drop in and out - wind, water, rustling plants and hissings of desert dust. I had heard of Steve's earlier concerts with didgeridoo and dripping water, but this night was all-electronic. Before long the melodies strengthened and joined with some ethnic percussion - I might have been hearing a piece from "Dreamtime Return", but I wasn't sure. Steve pressed a few buttons on his tiny VJ console and the projection screen came alive with desert imagery taken from his "*Kairos*" DVD, including a wonderful crack of desert thunder that made the floor of the church shake. The ethnic percussion continued a bit longer, combined with textures that were arid and desert-like. After disappearing down below to light a fresh stick of incense, Steve brought us into space - a rushing, rhythmic space reminiscent of his albums with Vir Unis. While layers of sweeping, ticking, burbling phrases built to a crescendo, Steve began to bop his head furiously, checking on the patches running from his laptops, then adding extra melody from his keyboards and bearing down on the main mixing board. Twice Steve brought the audience into these hyper-energetic spaces, which almost seemed ravey at times, if you could imagine a bass kick in the mix. Chuck van Zyl told me, as the church bounced along, "He *never ever* plays melodies like this live." Another boundary broken, it seems.
My favorite part, though, came as the set wound down. We transitioned out of the second peak with a video of a rapid trip down a cosmic wormhole, wiping to an animation of a stellar explosion. *Boom*, went the music, and Towne flooded the audience with color from the oil lights. For those sitting up front, they were probably jolted out of their reverie, but from the back of the church where I stood the effect was just lovely. Now with the pews awash in reds and yellows, Steve brought everything slowly down again, with a long, drawn-out ending that brought the volume down to a nearly imperceptible level. This time, the mood was light, positive, celestial, as we got a few long, long melodic flourishes and the room got quieter and quieter. No one even dared cough till Steve had everything pared down to the last layer, and looked up at the audience and bowed. Then the church got to its feet, greeting this fourth appearance from Mr. Roach with unchecked enthusiasm.
And then into the car and time for part two. The pace got a little frantic during the beginning of Star's End, what with all the time Steve had spent at the church making sure all the fans got time to chat with him. I entered the WXPN studio to find Steve looking a little tired and harried. Next door, a jam band was finishing up at World Cafe Live - college kids in rugby shirts and polo shorts gripped their beers and squinted through the window at us. I followed Chuck into the control room at 1:58 AM, when it looked as though Steve's set-up was suffering from a few crossed wires. Chuck slipped "Dreamtime Return" into the CD player, hoping to provide a little airtime cover. But as Chuck did the on-air break, from across the hall, we got a frantic sign from Kathy Jeffries - ready to go! And sure enough, after Chuck turned off the mike, Steve hit the ground running mere moments after getting plugged in, with a full rolling rhythmic piece already in progress. Chuck sat back in his chair and laughed, "Wow, what balls!" Indeed, Steve had a confident hand on the tiller for the next two hours, providing rapid-fire of electro-ish melodies broken up by more of those celestial interludes, lush and full atmospheres woven together seemingly without any effort. But it got to be too much. Tired beyond belief, I coffeed myself up one more time and headed out to the car at 3 AM. A few others decided to exit with me, and in the middle of his music-making, Steve took his hand off the keyboard, shook our hands and said thanks. And he meant it too. Another night in the company of the Gatherings artists - we give them our trust, they give us their thanks. *Omakase*.
by Scott Kelly - 4 June 2007
---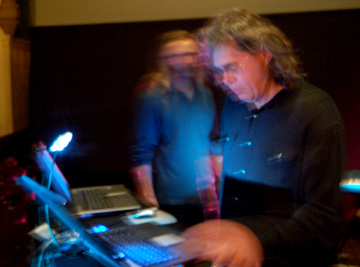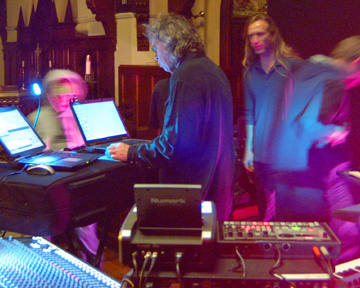 Steve Roach - Post Concert
Review: Steve Roach May 19 2007 Concert/Gatherings Review

It was a homecoming of sorts driving down the PA turnpike from Harrisburg to Philadelphia once again for a Steve Roach performance at St. Mary's Church on the Penn campus. I've seen Steve work his magic live every chance I could over the years, starting with his 1997 show at Houston Hall! Hard to believe it's been almost ten years since then.

And while I was at virtually every Gatherings concert since that '97 show for years, my obligations and scheduling have made it impossible for me to attend any in the last couple of years. Fortunately, everything worked out for me to make it back to see Steve.

Anticipation was high, as my girlfriend and I arrived fairly early to get a good spot in line. Despite a slight mist and occasional rain, the line quickly snaked down the walkway, with the overheard bits of conversation in the air that only come with that amazing community that shows up for The Gatherings. The crowd has become notably larger and more diverse than I remember, perhaps due to the online streaming of Star's End.

Once we made it inside, it wasn't long before the place filled up, the lights were lowered, and Chuck welcomed us back. Jeffrey Koepper opened up, and was a great choice. A flawless, well-paced, and perfectly timed opening set that took us on quite a ride! I wasn't that familiar with him, but I was very satisified with his performance. Some very interesting textures and smooth transitions from energetic to spacey back to sequencer-land. Some of it seemed in a similar vein as what Ian Boddy has done at times. A fine job, indeed.

Once again I was reminded that there is nothing quite like experiencing live electronic music played through a high quality sound system in an appropriate environement. Anybody else feel that something is lost when a synth is recorded, no matter how high- quality the recording & playback equipment?

During the break, I headed back to the bathroom, and while standing in line again a conversation started regarding Steve and his past Gatherings performances. Some new faces and familar faces in line also chatting about Steve. The anticipation was high.

Making it back to my pew just in time for the lights to dim while the smell of sweet incense set the mood. And there was STEVE! A huge round of applause before he even played a note, which is notable in itself. Then we got ready.....

After a while, the video screen behind him came to life, showing desert imagery that eventually gave way to a fantastic sequence of some of the best, trippiest computer animation that I've seen. Steve continues to raise the bar with his multimedia presentations over the years, and this was no exception. I was a little surprised by the end that there was no digeridoos, or the cool little shakers & percussion instruments that would sometimes pop up in his past performances (loved the dripping water that he looped last time in Philadelphia to start the show), but this performance was indeed unique. No guitars this time.

While Steve has always had a very deep quality to his music, with a smoothness and unique stage presence that comes from years of playing live, his set seemed to touch on some of the deep drones that reminded me of The Magnificient Void at times, and then moving into some of the more electo-rhythmic areas, then to drifting synth spaces, and back again. The rear speakers brought extra depth to the sound world we were enveloped in.

I've never seen Steve boppin' around like this time during parts of the show; at one point I thought one of the tall equipment racks was shaking so much it might fall over! Steve really gets into what's he's doing.

And by the way, the lights were absolutely perfect for both sets. Jeff Towne really has gotten very subtle for the most part with the lighting, but also created a very cool part at the end, with the some of the watery lights coming over part of the audience. Very effective, and well done.

The one thing I did notice was that the sound overall seems a lot louder than I remember at previous Gatherings. The peaks got almost *too* loud at times during the peaks in both sets, but it just might be me and my position (fifth row center). The sound was always full and powerful. Hard to imagine folks drifting off to sleep like in past shows, but sure enough the fellow in front of me was almost horizontal for a lot of the show. Only at The Gatherings.

After a while, the set wrapped very slowly, with some teases at the very end. I was hoping for a reprise, but no it was indeed over and the applause went on and on. Yet another standing ovation for an amazing performance by the master.

As we left, there was sign on the door: SOLD OUT. A packed and happy crowd lined up to talk to Steve. Hard to believe he would make to WXPN in time for the Star's End radio concert later that night.

It was wonderful to be back! Chuck and the gang really have a great thing going with The Gatherings, and it's no surprise that folks around me traveled from many points, some far away, to take part in this very unique experience. I'm so glad that it continues.

I've been a huge fan of Steve, and his shows are always incredible. Nobody gets that primitive tribal feeling (among other areas he visits) across quite like Steve. It's like being transported into a desert dream circle. He really sets the bar higher each time, and I'm so grateful that he continues to perform. Go Steve!

by Joe Olnick as posted to the Spacemusic List (#11576) 21 May 2007
---
Review: Re: Steve Roach May 19 2007 Concert/Gatherings Review
Yeah, I believe you hit right on the money with that review. For me, it was probably the best concert experience I've ever had. After confirmation, I have also determined that the person mentioned being "almost horizontal" for most of the show, was actually me. I was feeling a little under the weather just before the show began, and found myself needing to lay my head down every once in awhile. But let me tell you, it had no bearing on the experience whatsoever. If anything, I started to feel better as the show progressed. After it was over, I finally got up and went to the restroom, then I got in line to meet Sam (from Projekt), who was selling the merchandise, and ultimately... Steve. One of the two must have done the trick because I started to feel alot better then. After pretty much everyone had left, I finally left too (around 12:30am) and began the two hundred mile drive home back to Culpeper, Virginia. I listened to the live show that he did on the WXPN Star's End radio show on the way back, and it was as if Steve had never stopped playing back at St. Mary's; like the show was still progressing. It really was amazing. Everything about the night was. Oh, and likewise about any info on the recordings of the show. Hopefully Steve and/or The Gatherings will release an official CD.
by David as posted to the Spacemusic List (#11579) 23 May 2007