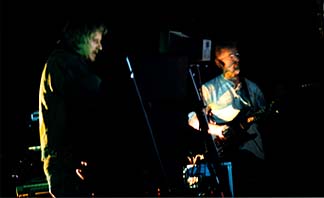 Orbital Decay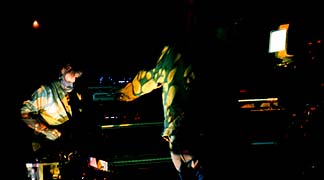 Orbital Decay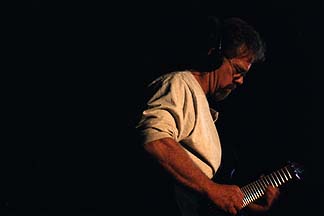 Scott Watkins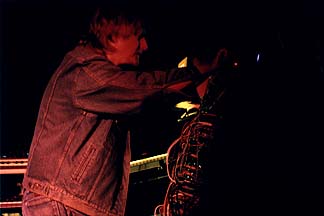 Terry Furber
.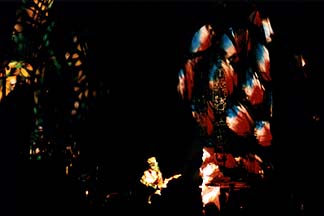 The Ministry of Inside Things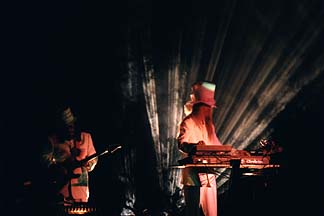 The Ministry of Inside Things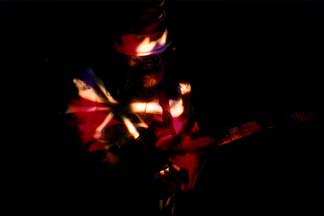 Art Cohen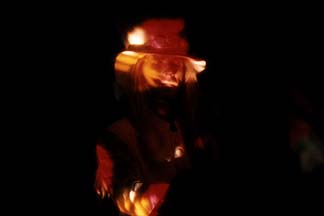 Chuck van Zyl
Review: Hats off to MoIT/Orbital Decay

If you were out and about in this area during the past week, chances are you and anything else not nailed down was going for some sort of a wind-enhanced ride. Gale-force gusts pummeled the area and I can't begin to tell you how many people I saw chasing their hats down the sidewalks. This is leading me to believe that the rumors are, in fact, true that Chuck van Zyl and Art Cohen were witnessed sprinting down Market Street chasing their brand-new-Gathering-performance hats last week. If so, Chuck is most lucky he caught his. A good gust of wind would have sent that thing sailing to the high heavens. Aah, yes, but more on the cool cats in the hats (with bats, nonetheless) later.

The now-concluded Fall Gatherings season might have been the best yet. Under the Dome... with Colin, mind you... was fantastic back in September. Stearns came next and his appearance was an electronic-music-appreciator's dream-come-true. Stearns' selected film collage, placed in motion to his sublime self-composed musical designs, gave us just what we all had long wished for him to bring to town. Then came last Saturday, when the fall season would reach its apex during a legendary performance by The Ministry of Inside Things.

But first, this weekend's Gathering saw Orbital Decay open up for MoIT, using the same live-sound-creation-to motion-picture concept during their performance as the above-mentioned Stearns' show. The displayed images (theme-titled "Interstellar Sandstorm") were self-produced (by OD synthesist Terry Furber). Also, Furber used self-credited still footage most effectively representing a terrestrial, but space-aimed, antigravity lifting into outer space. NASA and Hubbell space telescope imagery, as well as evolving computerized images, would then intersperse during a stormy visual journey through the universe. Furber, accompanied by guitarist Scott Watkins, effectively conducted a background of hypnotic electronic sound.

After Orbital Decay's performance, it was time for the two hardworking Gatherings concert-series producers to step into the spotlight. Little did I know that, on an evening that MoIT members Chuck van Zyl (synthesizers) and Art Cohen (electric guitar) released a beautiful double-CD called "Everlasting Moment," the pair would produce for this listener the finest hour ever experienced at a Gatherings series concert.

There were pre-event rumblings and rumors of surprises-to-come for the MoIT set. A dearest friend sitting by my side asks, "Hey, who's going to introduce the band?" (usually Chuck's job). Sssh, it's a surprise. "What is it we're hearing about Chuck and Art wearing 'special outfits'?" Sssh, it's a surprise. "New lighting effects?" Sssh, its a surprise. "What were those big white things Chuck and Art were chasing down Market Street during that windstorm last week?" Sssh, it's a surprise.

Lights dimmed, the synthesist and guitarist walked onstage through a wisp of smoke, unannounced, pacing themselves to a computer-voiced repeating of "please stand by" eminating from the sound system. The pair were dressed... well, somebody can do me better here in describing this, I'm sure... as if prepared to attend a Lewis Carroll-themed invitation-only Mad Hatter Tea Party.

Both were cloaked in white, from head to toe. Van Zyl, of imposing height (unhatted), donned a monstrously large, bowed, white hat; the expanse of which disappeared somewhere into St. Mary's apse. One neat thing about the gargantuous headpiece was watching an uninvited (but welcome, in my book) guest, a lost bat from the belfry (which haphazardly fluttered about the church all night), do circles around the hat throughout the performance. I'm not lying. If Chuck weren't so animated on stage, enthusiastically cueing Art and the lightman of some killer "VM-75" (their concert's opening song) chord progressions, the attending rep of the one-and-only species of flying mammal could very well have nested within the hat's confines, with enough room to support a cast of Mrs. Bat and a large litter of baby bats. (The bat wasn't going to mess with Art Cohen's less-significantly sized cap... his headpiece seemed a little on the crushed side, to be honest; it appeared as if Art had stood on his head and attempted a few pogo-stick-like head bounces in order to keep its height in check).

Sorry, enough about hats.

Dressing the musicians in white was an ingenious idea. Whereas most acts use a screen, or often the venue itself, in which to project special-effect lighting; Chuck and Art, in their attire, in effect became light projectees. One sniffed of Jeff Towne's creative talents at work here. The vivid, flowery lighting during the MoIT set was transcendental, shifting at a mirror-image pace with the exhilarating transitions of sound.

As a band, MoIT never sounded better. A tally of personal live-MoIT experiences here (the first electronic music I ever heard perform happened to be an early version of MoIT) has me running out of fingers, but I can safely say I've never heard Art and Chuck perform with such succinctness, so tightly together; nor has the pair, especially Chuck, been so physically animated onstage. Chuck usually sits during his live performances, but chose to stand for The Gatherings crowd. In describing what we heard, I can't improve on the words offered in the concert's preview press release, so to borrow words (and save time): "The Ministry of Inside Things leads the listener across varied sonic terrain. Based on improvisation, MoIT creates electronic realizations that flow from theme to theme, exploring texture and atmosphere as well as harmony, rhythm and melody."

Sometimes intense, sometimes beautiful, sometimes distant, sometimes strange.

The perfect representation for those curious to hear MoIT's sound would be the event-released CD "Everlasting Moment". Hopefully there will be an announcement soon as to its public availability. The music contains all of the music (in slightly varied form) performed live Saturday night, plus much more. It's an awesome release.

There's also a photo that speaks to me on the beautifully layed-out CD cover and spread (Jeff Towne is credited for its design). The photo I'm talking about is of MoIT performing live in the WXPN studio. My eyes are always drawn to the clock on the wall. It reads 2:50 in the morning. Amazing.

It's the way of the outer circle. The band is live, on-the-air. Somewhere, out there, a handful of us are tuned in; lost in moments everlasting.

by soma611
As Posted to the Spacemusic list (#8006): Mon 17 Nov 2003
---
Review: MoIT + Orbital Decay at The Gatherings - Nov 15
"The Gatherings is perhaps Philadelphia's premier electronic music concert venue. Last night, November 15, 2003 two local groups, Orbital Decay and The Ministry of Inside Things shared the bill. It was another fine evening of live electronic music for which Philadelphia is globally known. ..."
read more (off-site)
by Howard Moscovitz/Electro-Music
As Posted to http://electro-music.com: 16 Nov 2003
---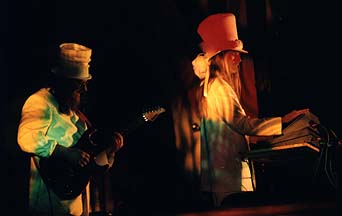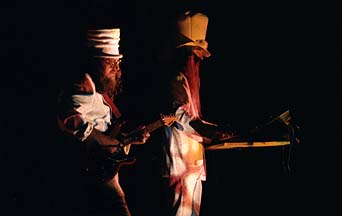 The Ministry of Inside Things
. . .
---
The album The Gatherings presents the complete concert performances by Orbital Decay (Terry Furber & Scott Watkins) for The Gatherings Concert Series. Their realizations were made live, in the heat of the moment, before an enthusiastic, informed audience. As these conditions are known to reveal the creative spark, we find both the musicians and their listeners experiencing this extraordinary music together in the act of being made.
Based on live improvisation, Orbital Decay creates electronic realizations that flow from theme to theme, within the context of a composed suite of music. Through use of textures and atmospheres as well as harmony, rhythm and melody, the duo transports the listener on an internal aural excursion. Always bringing their own influences and innovation to the music process, OD produces a sound that is uniquely individual and personal.
Proceeds from the sale of The Gatherings by Orbital Decay go to support the efforts of CIMA of PA, the IRS recognized, non-profit, all-volunteer organization which oversees The Gatherings Concert Series in Philadelphia.
Please learn more about albums meant to support The Gatherings Concert Series by accessing: thegatheringsconcertseries.bandcamp.com
---