After updates from St. Mary's Hamilton Village outlining prohibitions by both The University of Pennsylvania and The Episcopal Diocese of Pennsylvania we find that our 2020 season must be postponed. This conclusion is quite saddening - as such a great concerts were planned - but it is now found in the best interest of all to avoid such assemblies.

Let's hope that our efforts toward suppressing the COVID-19 pandemic will have the desired effect. Please share this post with your contacts so that others may know of our news, and go safely... and check back for news and updates...

Thanks for your attention and support.
---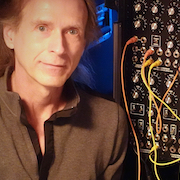 POSTPONED: Chuck van Zyl + Vic Hennegan - 21 March 2020
A musician of the imagination Chuck van Zyl provides concerts of epic intimacy in a digital age. With over 30 years experience he has learned that the possibilities of Electronic Music make it the perfect tool for exploring spontaneous composition. Taking each member of the audience on their own personal journey the music reaches toward the unseen depths within us all. With its deep space gateways and Berlin-School sequencer breakdowns on down to quietly consuming dark fields, his music invites wonder. Whether channeled from the astral plane, or merely the transformation of electricity into sound, concerts by Chuck van Zyl are for those seeking a deeper examination of texture and atmosphere. Anyone in love with Spacemusic and its very specific poetry will want to attend this event.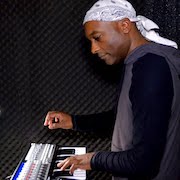 Vic Hennegan is part of a brotherhood that spans continents and centuries. His innovative works trace a through line from the birth of synthesizers to today's rock/pop tinged global grooves. Performing with the confidence of the musically well-traveled Hennegan mixes his experiences into vivid sonic statements. Creamy synth leads buzz, hum and unfurl in a meandering ribbon of notes as a mechanistic patterns motor away in the reverent soundspace. While body swaying sensuous beats magically morph into a staccato arpeggio of echoing electro-blips, breathy harmonies and glittering effects advance and recede. In these cosmic chronicles we find Hennegan's exuberance is contagious - as his music aims to heighten our sensitivities and common yearnings for a better world.
The Chuck van Zyl plus Vic Hennegan co-headlining Free Admission event at The Gatherings Concert Series on Saturday 21 March 2020 has been postponed. Please check back for updates. Thanks!
Concert Announcement POSTPONED