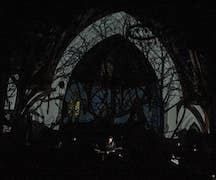 Hotel Neon plus Guitar Pilots (co-headline) - 16 November 2019

FREE ADMISSION (donations were appreciated!)

Hotel Neon is the ambient drone-guitar/synth trio consisting of Michael Tasselmyer, Andrew Tasselmyer and Steven Kemner. Their music is characterized by blissed-out, gently moving forms and slowly evolving atmospheres. In understated works for processed electric guitars and droning synths they entice the audience into a dreamy, wordless state. Emphasizing texture and mood, Hotel Neon provides an open-ended sonic environment meant for optimal being. As contrasts in sound reach the mind's eye through the body's ears, the movement of mood from dark to light stirs the listener's soul.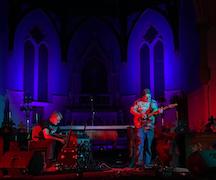 Guitar Pilots is the spacemusic duo featuring guitarists Art Cohen and Harrison McKay. Their music features lengthy structured improvisational pieces which transport the listener to the depths of space, all the while focusing on each precious unfolding moment. Cohen's sequencer-like echoing guitar figures provide rhythmic propulsion, while McKay's breathing chords and sub-octave rumblings build a foundation for both musicians to rise in melodic flights. Singing glissando blends seamlessly with plucks, twangs and blasts of an interstellar beam. Following the trail blazed by Pink Floyd, The Grateful Dead, and the Berlin School, Guitar Pilots carve out their own unique sonic territory that is both organic as the ground underneath and as far-reaching as a distant pulsar.
Local Electronic duo Alesi & Sieber provided an opening set
Hotel Neon and Guitar Pilots returned as co-headliners to The Gatherings Concert Series on 16 November 2019 for a Free Admission event. Local Electronic duo Alesi & Sieber provided an opening set. Thanks to everyone who attended this special event!