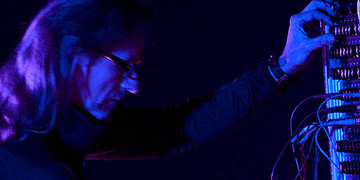 Co-Headliners - Chuck van Zyl plus Fhloston Paradigm - 21 April 2018

FREE ADMISSION (donations appreciated)

Best known as host of STAR'S END and as coordinator of The Gatherings Concert Series, Chuck van Zyl has also been making his own unique style of electronic music since 1983. Sometimes referred to as "the children of space", Chuck van Zyl's generation of musicians are more than just carrying on an earlier tradition. Seeing creativity as a component of his own personal spirituality, van Zyl's musical realizations are fueled by everything from music technology to a greater cosmic awareness. His musical sensibilities evoke a sense of discovery, with each concert marking a new frontier of sound.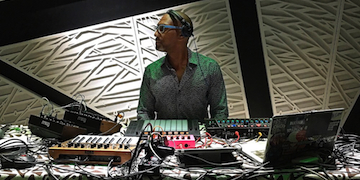 To intrepid travelers along the deep and dark spaceways, King Britt's innovative music project Fhloston Paradigm will put a hum in your ear drum. With a gentle precision his music generates reassuring atmospheres of electrical synthesizer tones and digital textures. From a pervasive sense of calm to a most potent magic, we journey through his sonic realm against the strong tug of some unseen charm - and wonder what strange spell has been cast? Progressing through these spacey thought-zones, we find ourselves on an excursion where every track is a mind trip. Some notes are so deep your DNA will vibrate, while further in they are as light as cosmic cotton candy.
Fhloston Paradigm (King Britt & Pia Ercole) co-headlined with Chuck van Zyl at The Gatherings Concert Series on 21 April 2018. This was a Free Admission Event - Thanks to everyone who attended and made a donation!