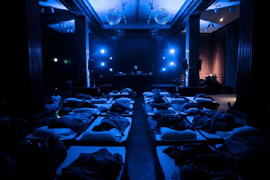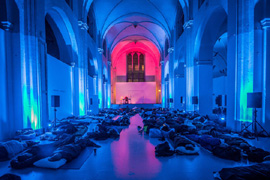 Robert Rich - 3/4 June 2017
Robert Rich finds expression in his works by fusing nature, technology, art and craft into a sonic replica of our earthly macrocosm. His music is concise, exhilarating and charged by a keen sense of drama. Moving through his many albums we find multi-layered realizations enlivened by misty flute solos, floating glissando guitar, and ethereal synth pads. Less active areas within the meshes of musical fabric are like an oasis nestled inside his ambitious design.
Conjuring soundscapes derived from the darkest regions of the earth, to the brightest grain of stardust, Rich's performances evoke the enigmatic nature of the universe while emphasizing its harmony with the human spirit. With his steel guitar, flutes, field recordings, synthesizers and samplers Robert Rich delves into the mysteries of the cosmos, and our place in it.
Robert Rich returned to Philadelphia and The Gatherings Concert Series for an eight hour sleep concert performance, from Midnight to 8AM, on Sunday 4 June 2016, within The Rotunda Sanctuary, 4014 Walnut Street in Philadelphia. Thanks to everyone who attended!
This concert was broadcast live on WXPN/STAR'S END Ambient Radio, in commemoration of 40 years of broadcast.
Sincere Thanks to IsoTank, Projekt Records, Robert Rich, WXPN, The Rotunda and to all of our supporters.