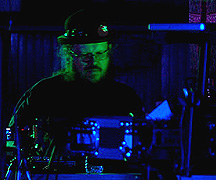 Modulator ESP
Modulator ESP plus Jason Sloan - 17 September 2016

Exploring sound, texture and atmosphere, the music of Jason Sloan is often smooth and spacious. It opens up and fills ambient areas with the slow motion of sustaining chords and a gradual metamorphosis of timbre. By adding the elements of rhythm and melody, his works provide a surprisingly deeper examination of the interior landscape. With layers of reverberant e-bow guitar over sampled percussion loops or cloud-soft synth pads churning alongside digital-age beats, Sloan's musical ideas posses a shimmering exuberance. Sparking, then smoldering, his music plays out across an ever-changing landscape - and deserves praise for aiming so high.

Prolific UK synthesist Jez Creek records and performs under the name Modulator ESP. Producing improvised experimental soundscapes using synthesizers, sampling, sequencing, looping and processing to create strange worlds of sound. Falling somewhere between '70s Spacemusic, noise and dark ambient drone, the music of Modulator ESP travels to the furthest reaches of sound and art.

Many Sincere Thanks to Everyone who came out to, and who helped out with, the concert!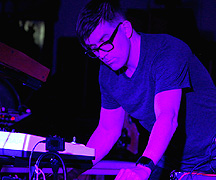 Jason Sloan