Ben Camp to Lead Ableton Live Workshop at The Gatherings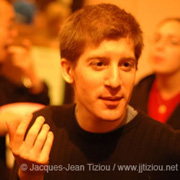 On Sunday 4 December 2005 at 7:00pm The Gatherings Concert Series will present a workshop on Loop Based Composition at St. Mary's Hamilton Village. This workshop will focus on the popular software Ableton Live and is open to anyone interested in learning more about the concepts upon which this software is based. If you have ever listened to loop based music and become curious about how the software (in particularly Ableton Live) functions and is used in the creation process, or are interested in making your own loop based music, then this workshop is for you!

The Ableton Live Workshop at The Gatherings will be headed by University of the Arts instructor Ben Camp. Ben is an active DJ/Electronic Musician and has released over 30 singles to the dance music market on several highly respected independent labels, including his own label, Movim.
---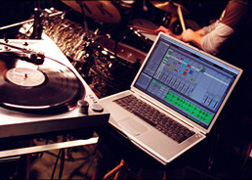 The primary educational goal of this workshop is to teach to the novice the creative operation of Ableton Live, a sequencer and looping program one can play like an instrument. Ableton Live provides all the primary features of an audio recording program and a MIDI sequencer, as well as some processing effects and virtual instruments. Due to its unique design, Live has the potential to become an instrument in itself. This workshop will cover the essentials a first-time user needs to know about setting up and operating the Ableton Live program. Concepts to be covered include: creation and manipulation of pattern elements, production of completed pieces, real time musical performance and ultimately, insight into how these components and concepts may be integrated with the aim of realizing musical productions.
~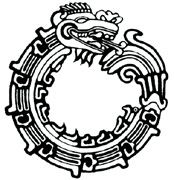 Looping Overview
The basic idea of a Loop is simply defined as, "a circuit where the output is connected back to the input".
The iconic representation of "looping" is the Ouroboros ("the tail-devourer") and is the symbolization of concepts such as completion, perfection and totality, the endless round of existence as well as eternity. It is usually represented as a worm or serpent with its tail in its mouth; which is a powerful symbol of infinity and also of universal nature, of completion, perfection and totality, the union of the chthonic with the celestial. Parallels abound - the figure-8 symbol of infinity (quite possibly derived from the uroboros), the Chinese yin-yang symbol, the Buddhist wheel of Life, etc.
Notes From http://pudenda.net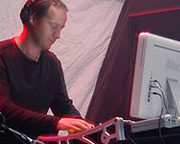 Ableton Live in Use:

Sasha is a well-known top-circuit DJ. Over the past few years he has taken to using Ableton Live in his DJ sets, making exclusive edits and remixes of tracks "on the fly" and mixing them with a PowerBook and custom MIDI controller. In 2004 he released a DJ mix CD called Involver which featured this new type of digital mixing and, over the summer, put out a similar CD entitled Fundacion.

Please see below for links providing more insight into Sasha, the technology used and the creative process:



---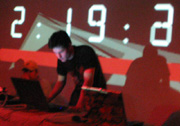 Laptop Battle: Electronic Music Culture
Over the past few years, the idea of the Laptop Battle was been born. These were around somewhat before Ableton Live came into wide use, but it has been Ableton that has really enabled these events to take off. A typical Laptop Battle involves various participants making music on the fly in front of an audience with the object to eventually select a winner. The first rounds of battles can limit participants to only two or three minutes of music time, which speaks to Ableton Live's flexibility and ease of use. In Philadelphia there have been three major laptop battles hosted by Seclusiasis Studios at Silk City. The fourth one is happens on Wednesday 30 November 2005. All Philly Laptop Battles have thus far been sponsored by Ableton Live.
Please see below for links providing more insight into Philadelphia's Laptop Battle scene:
Seclusiasis Studios is a Philadelphia based independent studio production facility, design house and promotion/marketing venture. Sponsored music events include The Philadelphia Laptop Battle at Silk City. For more on this event, access the Seclusiasis website and click on "News" or "Events".

Laptop Battle dot org offers insight into Electronic Music's new cultural phenomenon of fusing sound design, composition and stage performance in the form of a Laptop Battle.

Photo Essay by epmd is available for viewing and will provide more insight into the Laptop Battle as experienced at the Mid-Atlantic Laptop Battle of February 2005.
Notes by Scott Kelly
Workshop Outline: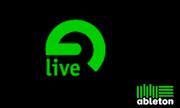 The Loop Based Composition Workshop will provide basic insight into the creative tools and techniques required to compose, record, remix, improvise, produce and edit musical ideas, using Ableton Live audio and MIDI sequencing software, a sequencer played like a musical instrument. Unlike other sequencing software, Live allows the user to create sequences in real time, on stage, or while remixing in the studio. The workshop will explore Live's graphic interface, explain how to work within its various views to record and edit audio and MIDI data, and demonstrate the program's unique real-time recording and mixing capabilities. At workshop's end, the beginner will have learned the basics of compiling live sets from audio and MIDI clips, loops, or samples in real time. With further study and experience, the novice may then become proficient in producing musical works in a number of contemporary styles, including Drum and Bass, R&B, Breakbeat/Trance and House Music.
---
Recommended Workshop Resources:
(the following resource links, while not essential, could help provide background knowledge which would enable attendees to get more out of the Ableton Live workshop):
---
The Gatherings Concert Series hosts the Loop Based Music Workshop with Ben Camp on Sunday 4 December 2005 at 7:00pm (doors open at 6:30pm) in the parish hall of St. Mary's Hamilton Village 3916 Locust Walk (just east of 40th & Locust) on the Penn campus in West Philadelphia. Requested Donation: $5 - $10 at the door. All ages welcome. No previous knowledge of music or technology needed.
---
For more about Ben Camp, please access the:
The Gatherings Concert Series is presented by the all-volunteer staff of The Corporation for Innovative Music and Arts of Pennsylvania