Jeff Coulter to Lead Mellotron Workshop at The Gatherings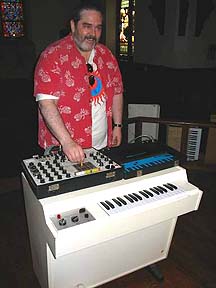 On Saturday 11 December 2004 at 8:00pm The Gatherings Concert Series will present a Mellotron Workshop at St. Mary's Hamilton Village. This workshop is open to anyone interested in learning more about the concepts upon which this instrument is based. If you have ever listened to music which included the sounds of the classic mighty Mellotron keyboard and become curious about how it functions and is used to create music, then this workshop is for you!

The Mellotron workshop at The Gatherings will be headed by veteran Mellotronist Jeff Coulter, a leading figure in the field of tape-based analog replay keyboards as well as in music performance with the now legendary Philadelphia-based Spacemusic duo Tangent. Also to his credit, Coulter was instrumental in orgainzing the loan of two Mellotron M400's for the 8 May 2004 Gatherings Concert Series performance by Radio Massacre Int'l.
.

Vintage Mellotron Photos Provided by Michael Gruetrich

1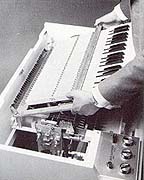 2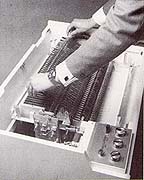 3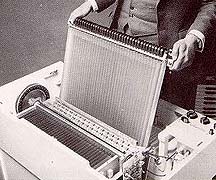 4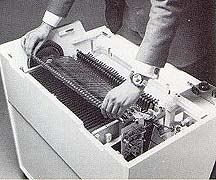 5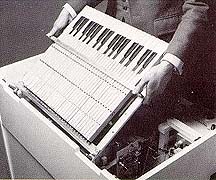 .
Demonstrating on a vintage Mellotron M400, Coulter and his team of experts will discuss the history, technology and basic concepts involved in playing sounds and producing music with a Mellotron. Attendees will have an opportunity to observe close-up the workings of a Mellotron, hear how this instrument produces tones and how musicians use these tones in musical composition. Whether you are a beginner, a music fan or have advanced knowledge, you will come away from this workshop with a better understanding of the Mellotron, the people who use them and deeper insight into the contributions this unique instrument has made to contemporary music.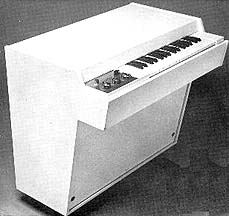 Mellotron Overview
A Mellotron is a tape replay keyboard. This means that under every key is a length of magnetic tape that is moved past a playback head whenever that key is pressed. Each piece of tape has a sound (for example, a sustained flute note) whose pitch corresponds with the keyboard note that it is under. After a key has been pressed and then released, the tape is pulled quickly back to its starting position by a spring. Since each sound is produced by a linear piece of tape rather than an endless loop, the sound can faithfully reproduce the attack phase and then the decay phase of a percussive instrument such as a piano.
While the designer's goal was probably to make it sound exactly like the original instrument that was recorded, the quality of a Mellotron's sound is, perhaps accidentally, distinctly its own. It has been called a 'mutant organ' and its sound is often described as moody and warm. It gives a song a haunting, lonely quality.
Notes From Bob Synder's Mellotron Page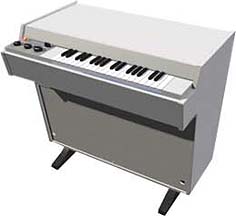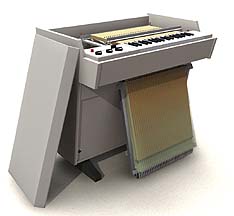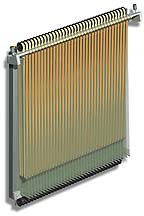 Joining Jeff Coulter at the Mellotron Workshop will be a number of noted fellow enthusiasts including:
"Professor" Jerry Korb is considered a genuine repair master who, along with building a dual-keyboard Mellotron from two seperate machines, possesses significant insight into this instrument's inner workings and history
Ken Leonard will be creating the "skell-o-tron", a Mellotron with no case allowing complete access and view to the inner workings. Ken will also thread a Mellotron tape frame with new tapes - a process requiring patience, intimate knowledge and meticulous handywork
Jimmy Moore is an independant Mellotron scholar, co-host of the May 2001 Mellotron Symposium in Glen Mills, PA and owner of the "Formicatron" (loaned to Radio Massacre Int'l on their May 2004 visit to The Gatherings)
Pierre Veilleux, the one-time keyboard player for [the Canadian Genesis tribute band] "The Musical Box" and official experienced Mellotron demonstrator will be showing attendees his instrument's full performance potential
Gino Wong is a fellow Mellotron owner and former STAR'S END/DIASPAR host
Along with an actual performance by revered Mellotronist Pierre Veilleux, each expert in turn will review some of the history, technology, apparent "cult" following of the Mellotron, as well as cover the mechanics, workings, maintenance and current status of tape replay keyboards.
---
Recommended Workshop Resources:
(the following resource links, while not essential, could help provide background knowledge which would enable attendees to get more out of the Mellotron workshop)
---
The Gatherings Concert Series hosts the Mellotron Workshop with Jeff Coulter on Saturday 11 December 2004 at 8:00pm (doors open at 7:30pm) in the parish hall of St. Mary's Hamilton Village 3916 Locust Walk (just east of 40th & Locust) on the Penn campus in West Philadelphia. Requested Donation: $5 - $10 at the door. All ages welcome. No previous knowledge of music or technology needed.
---
For more about Jeff Coulter, please access the:
The Gatherings Concert Series is presented by the all-volunteer staff of The Corporation for Innovative Music and Arts of Pennsylvania