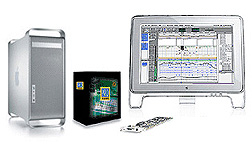 Music Production:

Pro Tools has transformed the world of audio recording. It has freed artists from the confines of traditional studios; made professional sound available to people on a budget; and (as new technology always does), changed the music itself. Pro Tools is a software program that replaces the old infrastructure of recording - huge mixing boards, rolls of two-inch-wide magnetic tape - with a computer. Musicians may now record tracks straight to a hard drive. Since Pro Tools can run with just a moderately powerful computer and a few accessories, musicians can get professional sound just about anywhere. A scaled-down (yet robust) version of Pro Tools may be aquired for less than $500 which will provide the consumer with a studio setup that would have cost tens of thousands of dollars several years ago. Pro Tools offers two basic ways to look at a song. The "mix" window simulates the traditional appearance of a mixing board. More powerful, however, is the "edit" window, where the audio may be viewed in horizontal bars, scrolling left to right on the screen. The sound waves appear as a seismogram of an earthquake: Sound, be it a guitar chord or a cymbal crash, is represented by jagged spikes. The bassist came in a half-step late? You can match the bass line up with the drumbeat by clicking and dragging it with the mouse. This was once a job that could take an engineer hours splicing tape with a razor blade. Now, with digital editing software, this process is nearly as easy as copying a paragraph in word-processing software.

Edited from the Article Written by Gavin Edwards and David Thigpen for RollingStone.com News - 8 April 2003

---
Podcasting:
Podcasting is a compound word that combines two words: "iPod" and "broadcasting." Podcasting is the method of distributing multimedia files, such as audio programs, over the Internet for playback on mobile audio devices (such as an iPod) and personal computers. However, a podcast is distinguished by its ability to be downloaded automatically. Usually the podcast features one type of "show", with new episodes either sporadically or at planned intervals, such as daily or weekly. Podcasting's essence is about creating content for an audience that wants to listen or watch when they want, where they want, and how they want.
To make a podcast, all that is needed is an audio file and an Internet connection, but additional gear offers more flexibility and sound quality. A multitrack audio editor such as Pro Tools will aid in the creation and lay out of the sonic elements of the planned show.
Please see below for links providing more insight into Podcasting, the technology used and the creative process:
---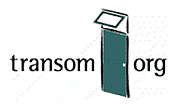 Transom - Democracy in Storytelling:
What separates radio documentary from any documentary? And what separates public radio journalism from any journalism? Radio documentary makers have a tactical advantage over print, film, television, photography. Their tool is aural story, the most primitive and powerful.
Transom.org is a combination library, master class and audition stage. It is an experiment in channeling new work and voices to public radio through the Internet, and for discussing that work and encouraging more. The site showcases new work from first-time producers as well as unheard work from established producers. Transom.org has been designed as a performance space, an open editorial session, an audition stage, a library and a hangout. Join this experiment in audio-and-the-internet. Transom is looking for new and different voices, for good ideas and encourages anyone with a story to record it and send it in to Transom, then listen to other people's work and talk about it.