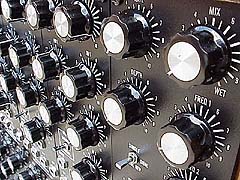 Modular Synthesizer Overview
"The inspiration for modular synths date from the era around the 1970's, when engineers were trying to incorporate the discoveries of the electronic semiconductor revolution into the music field. In order to explore the physics of music, they designed modules that attempted to electronically reproduce the functions of non electronic instruments (acoustic).
The original modulars were handmade in very limited numbers and were very expensive. They inspired the creation of best selling keyboard instruments such as the MiniMoog and Sequential Circuits Prophet. Although briefly popular, they faded before the onslaught of cheap off shore digital keyboards.
Modulars were rediscovered in the mid 1990s and became prized for their analog sound and radical appearance. The early units soon started to be discovered in garages and university storerooms and began to fetch astounding prices. A few dedicated designers started building modulars again, using modern components and up to date quality standards.
Today there is a myriad of available modules..."
Notes From http://www.modularsynth.com