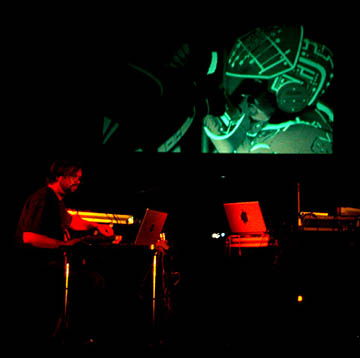 Gel-Sol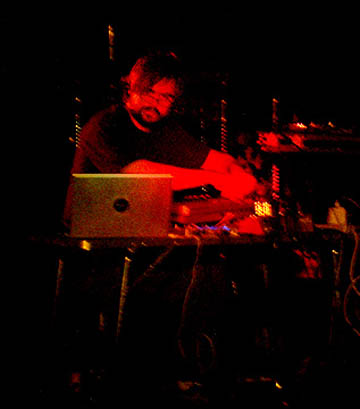 Gel-Sol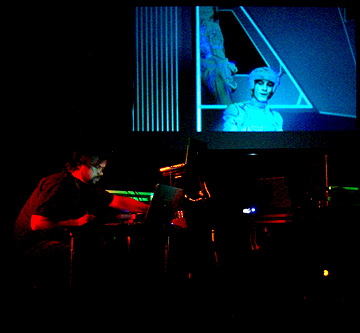 Gel-Sol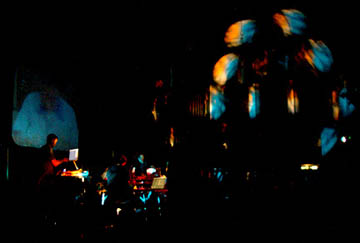 302 acid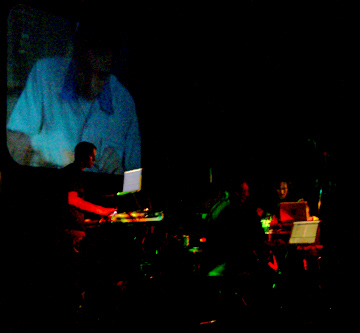 302 acid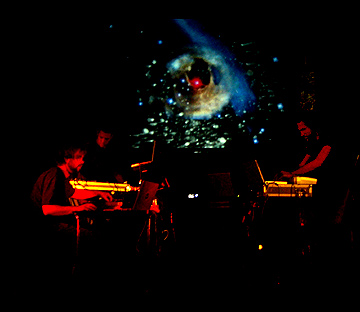 302 acid
Review: 302 Acid, Gel-Sol; Gatherings night review

Wisps of a distant Ophelia in the air, campus life vibrant, my walk up Spruce took me past the aged and beautiful building that until recently housed the WXPN studios -- a knock on the brick in remembrance of good times past, a glance at the darkened third-floor window, a smile at the recollection of backbreaking steps that led one there. History, sweet and sad. In contrast, the life at Penn never seems to age; yet another a young semester, student bodies everywhere, flowing from lovely architecture. Along the alleyway heading toward Locust Walk; it quietly approaches St. Mary's from behind. Lingering light; I'm late. Scott Kelley manages the ticket sales. He's merely a small-step removed from the student life; life in transition -- Scott seems to be coping with it well. It's good to see him again. As will several, DJ Kel is to hang around all night -- he's produced an hour for the forthcoming STAR'S END broadcast -- the 5-6am hour, when things get a little giddy; lingering darkness. I've barely enough time to take my seat in St. Mary's -- only enough to exchange a warm greeting with Mr. & Mrs. Seddon, core attendees -- when lights dim, the eloquent flowing-haired introduction; the show begins. Performing this evening are a trio ripe enough to have been recruited from the campus life surrounding. 302 Acid, represented by Doug Kallmeyer (samples, bass), Justin Mader (samples, projections) and Andrew Reichel (electronics), come to represent an ever-broadening landscape of music offered by world's most underrated concert series.

First, Reichel would take the stage -- solo -- offering us a taste of a personal project entitled Gel-Sol. "The Gatherings Signal," an informational sheet provided to attendees, headlines a description of Gel-Sol as "A Complex Minimalism --Minimal yet complex, ambient while beat driven, organic as well as mechanical." Movements of progressive intensity would impress me most. Gel-Sol's entire performance was backdropped by a video presentation of the motion-picture "Tron," providing a mix-mash of action sequences -- chase scenes, shoot-em-ups and (thankfully) unheard, but obvious bad dialog -- the action sometimes mirroring what Reichel offered, sometimes not.

To trio hour, after intermission -- 302 Acid time; ears rejoiced at the bowed sounds of strings -- droning, lovely -- emanating from the fretless bass in the most capable hands of Doug Kallmeyer. Memory recalls the first 20 minutes of 302 Acid's performance as low-key, minimal & quite beautiful. Oh, the kids would emerge, diversify, entertain on a wide range; "arrangements stripped down to raw drum and bass grooves, accompanied and punctuated by digital found soundbursts and ambient layers, often mutated through real-time processing until the line between these core elements is unrecognizable." In simple words? Let's make it one -- "fun." Besides Kallmeyer's bass, laptop computers appeared the main source of sound generation. Causing a smile, after the performance I overheard a pair of old-time synthesists explaining their mystification of how laptops could produce such a range of sound. "Kids today; it's amazing what they can do."

On to the afterglow. Call what transpired later as a delicious dessert, when 302 Acid performed live on STAR'S END for two complete hours -- 120 minutes of soft experimentation. Most notable was the second-hour's conclusion; while most of the surrounding world slept, there commenced a 15 minute key-shifting laptop/bass symphony of sorts, gorgeously flowing like a darkened river, haunting yet serene, sealing youthful 302 Acid's night as magical history.

by soma611
as posted to the Spacemusic list (#9926) Tue 20 Sept 2005
---
Review: 302acid at The Gatherings and on Star's End
Though my review of last Saturday night's performance of 302acid may not flow as eloquently as soma611's, or contain the same surreal images of Penn campus and it's surroundings, my experience of the evening does share a lot of the same views. Having not been fully exposed to much of 302acid's music prior to the concert, outside of the sporadic accidental hearing on Star's End of which I probably didn't know it was them anyway, I entered the Gatherings concert hall with no expectations other than to be entertained by 3 electronic musicians. The first segment of the evening was a performance by an artist or group who went by the name of Gel-Sol. I had initially thought this to be an entirely different band, but it turned out that Gel-Sol was in reality one third of 302acid, namely the musician Andrew Reichel, doing a solo performance. Now one could automatically pre-suppose that one-third of a unit could never be as engaging as its collective entirety, but the Gel-Sol performance was utterly astounding. Playing under the backdrop of a video presentation of the old Disney movie Tron, Gel-Sol's music was exceptionally mesmerizing. (I never did find out the significance of using Tron to accompany the music, but at least I ultimately got to see the ground breaking visual effects Disney created for the flick, even though the script was a real clunker from what I heard.) Gel-Sol's music drifted effortlessly between superb ambient soundscapes to surreal haunted passages of melancholic minimalistic soundworlds. The atmosphere was also heavily influenced by the occasional bizarre vocal samples run though Andrew's effects processors. All combined, it made the evening an incredible aural experience. Andrew Reichel is undeniably an outstanding artist at creating fascinating sound architectures and I highly recommend acquiring his Gel-Sol releases as well as his work with 302acid.
The second half of the evening was of course the performance by 302acid. This was unlike any Gatherings performance I've experienced in the past. 302acid's music has been described on various websites as "dark and twisted from the outer edges of the American psyche", and I can fully comprehend why. These 3 artists have manufactured a soundworld that is in every aspect unique and imaginative. 302acid is the collaborative work of Doug Kallmeyer (bass, samples), Justin Mader (samples), and Andrew Reichel (electronics). These 3 electronic innovators have time and again expanded the boundaries of intelligent electronic music. Their performance at the Gatherings was a fusion of digital soundscapes, syncopated beats, eerie vocal samples, video montages and improvisation that resulted in an extraordinary multi-media performance. Combining computer technology, live instrumentation and real time audio and video sources, 302acid's performance captivated you at every turn and kept you on the edge of your seat.
Their performance afterwards on Star's End employed many of the same characteristics that described their earlier performance at the Gatherings, with the subtle difference that they kept their music much more subdued and ambient. Intended for the sleeping audience, their music was a clever arrangement of slowly shifting soundscapes, skillfully accompanied by gentle swirling ambient textures which gave their late night performance a beautiful dream-like quality; softly embraced the listener like a warm blanket on a cold winter evening. I know it certainly made me feel that way.
by John Garaguso/Progressive Soundscapes
as posted to the Spacemusic list (#9927) Wed 21 Sept 2005
Review: 302 acid and Gel-Sol

Sitting at the table in front of my plate of chicken korma, I thought back to my last night at The Gatherings, with Jonn Serrie. I remembered the imposing figure he cut on stage, enrapturing the audience. I thought of his quiet, booming voice, his majestic coif, his stout chin. Then I looked at the three members of 302 acid, who attacked their plates of food with reckless abandon. Tonight would most certainly mark a break from the usual, I thought.

"Aargh, food," Doug Kallmeyer managed to cry between mouthfuls of bread. He reached for his Sam Adams. "Beer," he gushed. Andrew "Gel-Sol" Reichel and Justin Mader ate with slightly less urgency and managed to chat with me between bites about their recent months of touring and their lingering thoughts from their previous guest slot on Star's End in June. Between then and now, the trio had journeyed to Europe to play a few shows and had come far as a band and improvisational unit. Their set at the Big Chill was a particular favorite, and Andrew fondly filled me in on it between bites. But they seemed delighted to be back in Philly to take a crack at The Gatherings and the singular venue of St. Mary's. These three cut a strange picture, to be sure, sporting unshaven cheeks, earrings, and Blonde Redhead t-shirts. But having heard their music before, I knew everyone was in for a treat. Andrew's solo CD "Music Made For You, And By You, I Mean Me," had become the best-selling CD on the newly revived em:t Records label, and 302 acid's disc was enjoying similar popularity. Their music stands as a needed shot in the arm for thin, noodly, "chill-out" music - restless, ever-shifting pieces of experimentation pitched somewhere between rave, dub, and Coldcut-style sample plundering.

Once we entered the church the three lads took to tweaking their gear - all three of them armed with laptops and tiny mixing decks, and Doug with a slender upright bass which he tuned and tweaked at with a bow. Justin flipped through the presets on his keyboard and Andrew pulled up some samples on his laptop: infomercials, movie snippets, chattering computer noises and prank phone calls. He sheepishly flashed at me a DVD case - the 1981 Disney movie "Tron". "I've just been playing it straight through during my set," he confessed. But it would turn out to be a wise choice.

Once the church filled and Chuck van Zyl said a few words to start things off, Andrew took his place behind his laptop, nodded politely towards the pews, and launched into a spellbinding set. Some titters could be heard as people recognized his movie accompaniment of choice, but they quickly subsided as Gel-Sol laid into a haunting beatless intro while the computer world of Tron unfolded before everyone's eyes. After a few minutes, I grinned with delight as the bright, sweeping intro to "Ombai Strait" creeped out of the speakers. Watching Tron's "Light Cycles" game unfold on the screen seemingly in time to the beat, I shivered. It was a moment of two disparate things coming together perfectly, and I knew I wasn't alone when Chuck leaned over to me and whispered, "Man, this is awesome." That set the tone for the rest of the set - crisp, thwacking beats reminiscent of dance music welded to warm, expansive melodies and basslines in the tradition of classic groups like The Orb and The Sabres Of Paradise. Featuring mostly new material from his forthcoming album, Gel-Sol hopped effortlessly from one track to the next, taking everyone into a deep but active world. Andrew's music moved quickly and serenely, fluttering by with constant spoken-word samples and flashes of sound. After about forty minutes the music hiccuped to a stop, and a frenetic jazzy breakbeat thumped out of the speakers, practically giving everyone whiplash. Andrew's sense of humor, to be sure. This was his track "Numby Numbs", and he whipped through the hard, Squarepusher-ish tune with a devilish smile on his face, hunching forward and hammering at his keyboard. A different night indeed. The intermission immediately followed - some people rose looking slightly disheveled at what they had just witnessed.

After a short break, Justin, Doug and Andrew all took the stage to begin the main course - and delicious it was. While Andrew and Justin set up a wall of thrumming pads, Doug took to the bass for an opening movement that was melancholy and beautiful - baroque-sounding but fresh at the same time. After teasing with this for a few minutes, a slow, cracking beat eased its way into the mix. Some people stirred restlessly - this was not the "space music" they might have been expecting, but it filled the room just as majestically. The three members, feeding off of each other's key changes, slipped into a familiar mode of wandering experimentation - taking motifs and stretching them out, then just as suddenly dropping off into a flurry of harsh noise. Prettiness and unsettling trippiness jostled back and forth often, and by far the best moments were when Doug took up his bow to his bass, adding a much needed melodic lead to some of the more abtract passages. Although the set may have suffered a bit from wanderlust, it was wonderful to see three people jockeying their laptops in sync with each other, occasionally leaning in to whisper and confer on what to do next.

The skill of these three young laptop jockeys continued to unfold later that night in the dim confines of WXPN, where the trio took two hours to stretch their ideas out even more vastly, including a 20-minute version of my personal favorite tune, "Calibrations". While there was a lack of focus in their improvisation at times, the better moments of the set positively sparkled, and the whole night was flavored with the assurance that these guys were having a tremendous amount of fun. They brought no pretensions, just themselves and their imaginations. They joked, sipped at hot tea, paced around in their stocking feet, prodded at their gear sleepily and contentedly. Before I knew it, it was over, their gear stashed onto a cart and ushered quietly out the back door, with all of us sure that the future of ambient music is in good hands.

by Scott Kelly (DJ Kel)
special to The Gatherings website