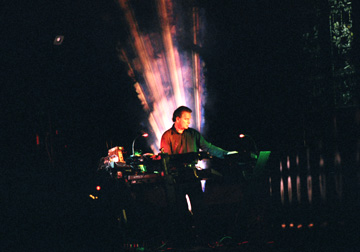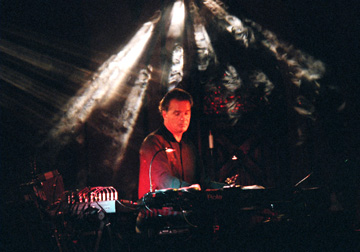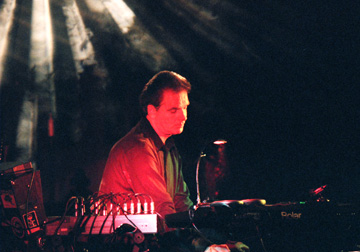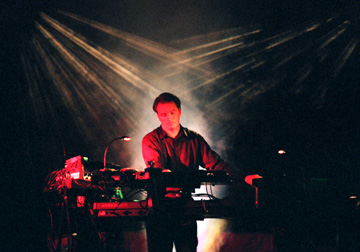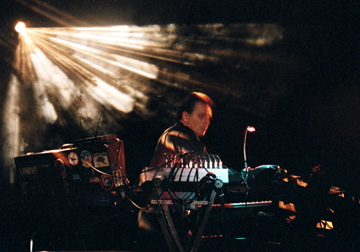 Concert Photos (above) by Bill Forcier
Review: Jonn Serrie at The Gatherings

Last night was yet another trip down to Philadelphia to attend the Gatherings concert series. But I felt as if I had traveled to Andromeda. Perhaps waking at 4 am to do a 6 am radio show was a contributing factor, but I doubt it. I'd rather attribute it entirely to Jonn Serrie's music. A pioneer of planetarium music, Jonn's compositions are at the core of the spacemusic genre. Anyone on the spacemusic list within driving distance of Philadelphia owed themself a trip to St. Mary's last night. Smooth, floating, transportive... these only barely begin to describe the power of Jonn's music. Jeff Towne's lights, as performed by Warren [Seddon] certainly added to the aura and Art Cohen's skillful sound engineering allowed all of Jonn's nuances to have maximum impact. All in all, another triumphant Gathering.

by Bill Fox
as posted to the Spacemusic list (#9564) Sun 15 May 2005
---
Review: Jonn Serrie's Gatherings journey
The Gatherings concert series returned to its core-musical roots this past Saturday night as Jonn Serrie provided a house of kindred spirits with a gorgeous night of spacemusic.
From start to finish, the evening proved spellbinding. Awaiting the opening of the doors of St. Mary's Hamilton Village, a host of chatter appropriately included talk between several amateur astronomers. Settling into the church, the mood was enhanced by the soft sounds of a Jeff Pearce recording, "The Light Beyond": this augmenting the mood as the pews of the church slowly filled to near capacity. When Jonn Serrie finally took the stage, he performed two 45-minute sets of seamless, uninterrupted, pure spacemusic ... offering a retrospective of his near 30-year career, including classic pieces ranging as far back to his "And the Stars Go With You." The ever-gracious artist concluded his evening with two pieces from his new CD, "Epiphany", a release in which Serrie returns to some core roots of his own. The album is a collection of sacred hymns, merged into the heavens, if you will, by Serrie's talents at expressing the divine. The first, "O Magnum Mysterium", is a modern choral piece composed by Morten Lauridsen, a hymn Serrie confessed to his audience as being greatly inspired by. The second, the concert's final musical offering, was a beautiful 18th century piece by JS Bach, "Jesu, Joy of Man's Desiring".
If anybody was able to tune into STAR'S END this night, a facsimile of Serrie's second Gatherings set was performed by the artist, likewise beautifully done. A post radio-concert interview with Serrie, handled most eloquently by host Chuck van Zyl, dug deeply bringing forth Serrie's self-revelation of his musical philosophy, inspirations and technique. Jonn also revealed some future endeavors during the interview, one of which includes a CD release inspired by a painting.
All in all, this was a needed back-to-basics night of spacemusic. The Gatherings concert series has offered a diversity of musical style throughout the years, but the producers and volunteers involved recognize the core, or soul, of its devotion. And who better than Jonn Serrie to take us back out there.
by soma611
as posted to the Spacemusic list (#9570) Wed 18 May 2005