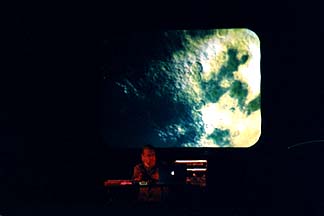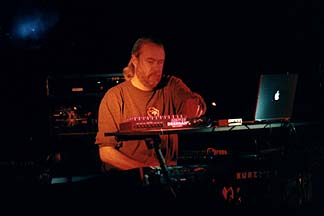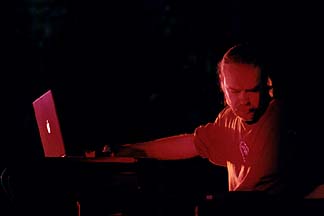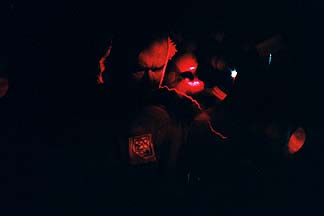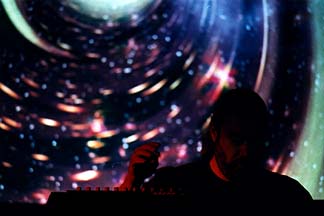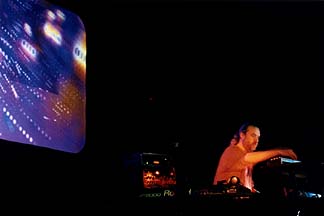 Review: Ian Boddy at the Gatherings

Three keyboards, a rack synth, a rack sampler, a computer, a few controllers, and some effects. Oh yes, and one person from across the pond. Tonight, Ian Boddy led the British Invasion underway this Spring in Philadelphia at the Gatherings. Lovely synth washes, deep percussion samples, and sequenced parts can't describe what you need to experience. The textures change, ebb and flow, but the master performance by Boddy assembles these elements into a deep experience both personal and shared. Despite a small case of jitters before the show, he transported the appreciative crowd. One can tell that Boddy basked in the resulting applause, a just reward for an evening that was amazing; a triumphant return that I hope will be repeated sooner than the four years we had to wait for tonight's ecstasy.

And with AirSculpture coming in April and Radio Massacre International in May, I'm not lighting lamps, one if by land, two if by sea. I'm lighting dozens of lamps to show the way to the Gatherings.

by Bill Fox
As Posted to the Spacemusic list (#8426): Sun 21 Mar 2004
---
Review: The Gatherings with Ian Boddy - March 20th, 2004
This was my fourth time visiting the City of Brotherly Love and one day I might actually spend some time and see what the city may have to offer. However, the purpose of this journey - the first of at least three this year - was to see one of the veterans of Electronic Music, Ian Boddy, perform at St. Mary's Church on the campus of the University of Pennsylvania - the concert venue otherwise known as The Gatherings.
In what is a small but established community, I suppose it is inevitable that when you show up to these events on a sort of regular basis people will begin to remember you. Also, being a part of various mailing lists and contributing (not-too-often but enough to prevent invisibility) to a forum, when introduced, people will recognize your name. So before the show, I spoke with a few people that I had seen before. After gaining admission and purchasing Boddy's newest CD, Chiasmata, world premiering at this event, I chose a pew in front and waited while the faithful took their seats and caught up with old, and with new, friends.
Many come with their own lawn chairs, veterans of the Gatherings preferring to bring their own rather than risk being uncomfortable on the wooden benches of the more-than-century-old church. Right in front of me, I recognized one of them as Jeff Kowal, better known as the musician, Terra Ambient. I spoke with him for a little while and also met a couple of other people whose names I have seen on the Hypnos forum.
After awhile, Chuck van Zyl introduced Ian and explained that the first set was going to be very much like the new CD and our shared journey began. Synth washes, percussive beats, and sequencers - accompanied by digitally-animated visuals projected on a backdrop behind the stage - took us on a trip to the reaches of outer space. Fractal patterns of all colors, shapes, and sizes also filled the screen for much of the latter half of this set. It was a delight to see this man perform and he obviously enjoyed what he was doing, as I observed him, as well as the screen behind him. From the reaction of the audience after this set, it was clear that those in attendance did as well.
After a not-too-brief intermission, in which I noticed that there were quite a few women at the show (more than I had seen in any of the previous shows I had attended here or just had not noticed before), Ian was introduced again and performed another full set of music ranging from ambient to classical piano to dance. This is no amateur musician, but someone who has mastered the instruments, the tools of his trade, and it was all done with little more than a few keyboards, a laptop computer, and a synthesizer.
Another standing ovation and he came out one more time, asking us if we wanted some more (as if we would say no!) and gave a short encore - something new, something to give the audience a taste of what he would later be performing live on Chuck's radio show, Star's End. A very nice ending and someday I hope the new material will show up on a future release.
Well done, Ian!
by Carlo
As Posted to the Spacemusic list (#8430): Sun 21 Mar 2004
---