---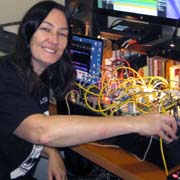 Sandy James
Sandy James teaches music technology and is in charge of labs, smart classrooms and computers at the Boyer College of Music and Dance and Temple University. Previously she worked in the commercial software industry as a developer and analyst. Sandy has a Masters in Sonic Arts from University of Rome, Tor Vergata, a Bachelor degree in Computer Science from Temple University, and a Certificate in painting from the Pennsylvania Academy of the Fine Arts. She studied Latin Percussion at Philadelphia's Latin American Music Association, and has studied privately in Cuba and Panama. Sandy uses a combination of analog sound synthesis and computer AV synthesis for her installations, fixed media pieces and performances. She has built some of her own synthesizers and modules, and has presented pieces created in Csound, Flash, pd, POVRay, Blender and Max / MSP, and is a regular performer at local Modular on the Spot events.
---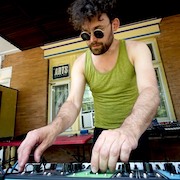 Jerry Kaba
Jerry Kaba makes experimental music with modular synthesizers and perform regularly. For the past few years he has hosted Modular on the Spot (MotS) events in Philadelphia - a monthly modular synthesizer outdoor free picnic series. Currently MotS is held in 15 cities and 5 countries and is continually growing. The goal of his music is to make the listener question the things they have heard and reflect on them, or at the very least enjoy the experience. Every project is approached with different instruments and techniques - as Kaba likes to challenge himself with learning new things constantly. He finds being a lifelong learner to be important to both his art practice and his teaching.
---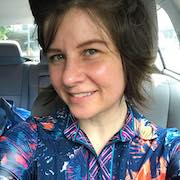 Datadrift
Datadrift is the Electronic Music project from Philadelphia-based innovative musician Guinevere Molly Campbell. Creating soundscapes since 1996, she uses an East-Coast, hardware-focused approach. Her principal sound is texture-driven. Creating synthesizer patches that resonate with a mood or idea, Datadrift generates a sonic palette - and works to create a soundscape that combines improvisation with aspects of sequenced pre-sets.
www.soundcloud.com/datadrift
datadrift.bandcamp.com

---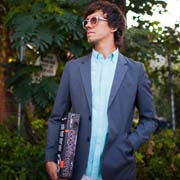 Powserati
Christopher Sean Powell (aka Powserati)is a self-taught rhythm scholar, producer, and electronic music-maker living in Philadelphia, Pennsylvania. As a main contributor in the Philadelphia art and sound collective Need New Body, which fused improvisation with popular song structures, Powell began a career of international recording and performance, creating music at the nexus of art and entertainment. Since 1999, he has collaborated, recorded, and toured worldwide with a diverse spectrum of artists and musicians, including the Sun Ra Arkestra, Yoko Ono, and the Boredoms. His latest music projects include Modular On The Spot, a worldwide synth collective which performs improvised musical sets on modular synthesizers in various outdoor locations. Powell's body of work has most recently expanded to creating instruments for NYC/Philly based synthesizer company Critter & Guitari's Organelle keyboard.
---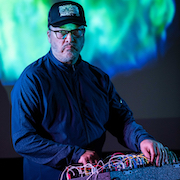 5ToK3
5ToK3 is a British musician and artist working in Brooklyn NY. Renowned for his unique programming technique using only analogue synths as well as his extensive vintage synth collection, his is essentially an analogue man in a digital world. Otherwise mysterious, choosing for his identity to remain unknown his roots in punk and industrial sound fuse with his obsession for electronics, machines and the synth. His work is both hypnotic and captivating, dark and experimental. Inherently reflective of the current climate both in the UK & the USA but also inherently beautiful.
---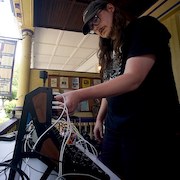 Snoozer
Snoozer creates modular ambience influenced by the woods and gravestones that inhabit the Cobb's Creek neighborhood of West Philadelphia. He promotes electronic shows in the Philly area, and is well known for the Wallpaper Music Series.

---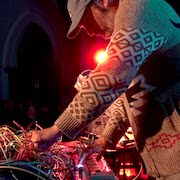 Huron
Johnny Lancia has been releasing blissed out ambient recordings under the Huron moniker for many years. His releases are filled with heady drones and idiosyncratic rhythms that reflect the natural world filtered through a variety of analog electronics and tape manipulation processes.
soundcloud.com/jlancia
huron.bandcamp.com


---